I was on The Para Junkie Blog

and found this blog hop. I love blog hops because they take you to some interesting places and bring some interesting people to your blog. This particular blog hop is pretty basic.. if you go to

The Para Junkie Blog

or

Alison can read

who co hosts this blog hop. You will see a feature post as well as a list of other blogs that have some fun and exciting reading available. Remember if you are a blogger and join the blog hop make sure and follow both Alison and The Para Junkie..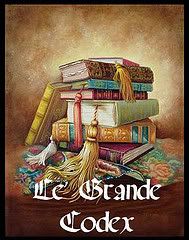 "
Hello there my name is Aparajita Basu and yes I'm from India. I created Le' Grande Codex in 2011 as an outlet to sight my views regarding the various books I read. I have become so book crazy that I finish one book and then move onto the next one without a stop. I am obsessed with books. I love buying them. I love collecting them. I blame 'Jo Rowling' for my unhealthy book obsession. Before I was introduced to the Harry Potter saga I was an occasional reader and not at all book crazy but not the case now. No worries i'm loving this part of my life really well.But this doesn't mean that I don't have a life.
Besides my book craze I am pursuing a B.A. in media Studies graduation course from Allahabad University, India and hope to make it big in the Animation industry. I also love to watch movies (preferably Hollywood 'cause Bollywood doesn't really appeal to me any more) and listen to music, going places, talking to people and helping round the house. So yes i do have a life besides books. Oh yes i forgot to mention i have an unhealthy but to a lesser degree obsession for Japanese manga as well. Oh and Le' Grande Codex is my second blog after The 'A' - Jurnale.
Q: I like unique names for characters and am looking forward to coming up with some when I start writing. What's the most unique character name you've come across?
This question is actually much harder than one would think. It's like I totally drew a blank.. How hard could it be to remember some unusual names? I read PNR for pete's sake.. Ok there's Wraith, except I have read two series now that use that name so it's not so uncommon.. all the BDB boys have unique names, as to all the LotU.. but I am going to go with Eidolon from Larissa Ione, Pleasure Unbound. Although... My name is Shaughnessey (Shaw na see) which is pretty unusual and I get a kick out of seeing someone with my name although it's usually a last name OR a man's name. I'm not going to tell you how when I see it in print, I actually pronounced it Shan a see.. ok.. this is my freakin name and I pronounced it wrong.. Nope I am not gonna tell anyone I did that...