I was on The Para Junkie Blog

and found this blog hop. I love blog hops because they take you to some interesting places and bring some interesting people to your blog. This particular blog hop is pretty basic.. if you go to

The Para Junkie Blog

or

who co hosts this blog hop. You will see a feature post as well as a list of other blogs that have some fun and exciting reading available. Remember if you are a blogger and join the blog hop make sure and follow both Alison and The Para Junkie..
Our Feature -The Housework Can Wait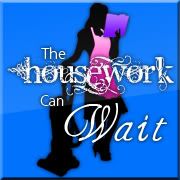 Hey there! My name is Lauren and I'm a stay-at-home/work-at-home mom for two little girls/walking, talking balls of energy. I spend a large portion of time just waiting for one of them to spontaneously combust. It really wouldn't be surprising. I started my blog because I love to read (when I can squeeze it in around work and my various Mommy duties) and I always want to talk about the books I read after I finish them. The problem is that most of my friends don't read what I read. And those that do, don't want to drop their work/Mommy duties at my every whim to talk about the books I read. Blogging is the perfect outlet for me to get all my words out of my brain and out into the world. And the best part is, I've ""met"" other people who like the same kind of stuff I do! Huzzah! My favorite books include Harry Potter and The Hunger Games, the Farseer/Liveship/Tawny Man trilogies by Robin Hobb, the Ender/Shadow series by Orson Scott Card, and The Princess Bride by William Goldman. Right now I'm trying to finish Glitch by Heather Anastasiu, but it's proving difficult since it's on my iPad and my 3-year-old keeps stealing it to do puzzle apps. So I'm getting ready to start The False Prince by Jennifer Nielsen.
Here's a fun Question for you all...
Q: What is one thing you wish you could tell your favorite author?
This is just such a hard question for me.. First off I would have to decide on my favorite author.. Do I go back to my all time favorite? JRR Tolkien? Or do I choose a current author? Or maybe one of the classics.. I love Alexander Dumas, Edgar Allen Poe, Mark Twain and Shakespeare.. Then there were my college fun reads, Louis L'Amour and Nora Roberts (when she wrote silhouette) Or there the authors that I loved who just stopped writing.. I suppose I would say the same thing to all of them. Thank you.. Thank you for the years of my childhood where I took your book everywhere with me. Where I made my friends listen to excerpts from Tolkien, while we were on Girl Scout Camp outs.. Thank You Norton Juster for teaching me about the English language all the while making me think it was a fantasy story.. Thank you Dumas for all those wonderful smexy men.. from D'Artangnon to Edmond Dante. Thank you all those authors whose books I would read while hiding in the closet, so no one would interrupt me.. Thank You Sherrilyn Kenyon for starting the fad of Greek Myths and Vampires with a twist.. Thank you Caris Roane for giving us Endelle and letting us help create her clothes. The list goes on but the heartfelt words remain the same
Thank You
Make Sure check out some of the participating blogs